Clocks | Refrigerator Magnets | Blue Bird of Happiness | Tin Box Products | Sun Catchers | Wind Chimes | Specialty Soaps |
Calendars, Mirrors, Sachets | Tin Signs & Magnets | Magic Scarves | Porcelain Lamps & Night Lights |
Cold Weather Italian Scarves | Light Miner Products | Wellness Women Products |

---
---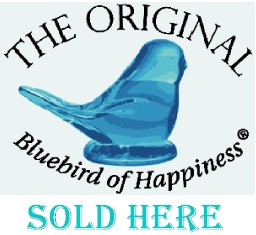 ---
---
---
Bamboo Chimes
These chimes produce sounds that relax and sooth
Other metal wind chimes also in stock
---
Unique Handmade soaps
You must see, smell, and use to appreciate these soaps
---
Wall Calendars (8" x 27")
Sachets
Pocket Mirrors
Mini-magnetic Calendars
---
---
Ways to Wear the Magic Scarf
---
Porcelain Lamps & Night Lights
Night lights
Lamps
Candle Lanterns
and more

---
The Wellness Women Product Menu
Country Corn Pillows
Minty Bath Bliss
Aroma Mist
Soothing Salts (Pink & Blue)

More info on the Wellness Women

"All of our products are made by The Wellness Women team using high-quality ingredients. We do not test on animals, nor do we use animal ingredients."


---

Earrings by Oreb Lram
---
Tavern Puzzles® are reproductions of a type of puzzle traditionally forged by blacksmiths to amuse their friends at country taverns and inns. All the puzzles are handcrafted and individually assembled. Each puzzle is mechanical in nature; removal of the object piece does not rely on force or trickery.
---
La Divas
---
Heart Rattles
---
Lotus Moon
---
Fit for executives,
kings, queens, and you or me. Handmade!
---
Nutty Necklace
Various sizes of stainless steel nuts combined with glass, metal, wood, acrylic, stone and crystal beads.

---
Italian Scarves
---
---